Document Storage Services in Irvine and the Surrounding Areas
Enhance your organizational efficiency with our comprehensive document management solutions, blending a refined document retention policy with cutting-edge storage capabilities. Uncover the optimal balance between onsite preservation and offsite storage, liberating your office space from the shackles of inactive files. Our services, spanning Irvine and throughout California, offer a sophisticated approach to records storage and retrieval. Embrace the advantages of offsite storage to not only declutter your workspace but also ensure secure and convenient access to your documents, anytime and anywhere.
Benefits of Document Storage Services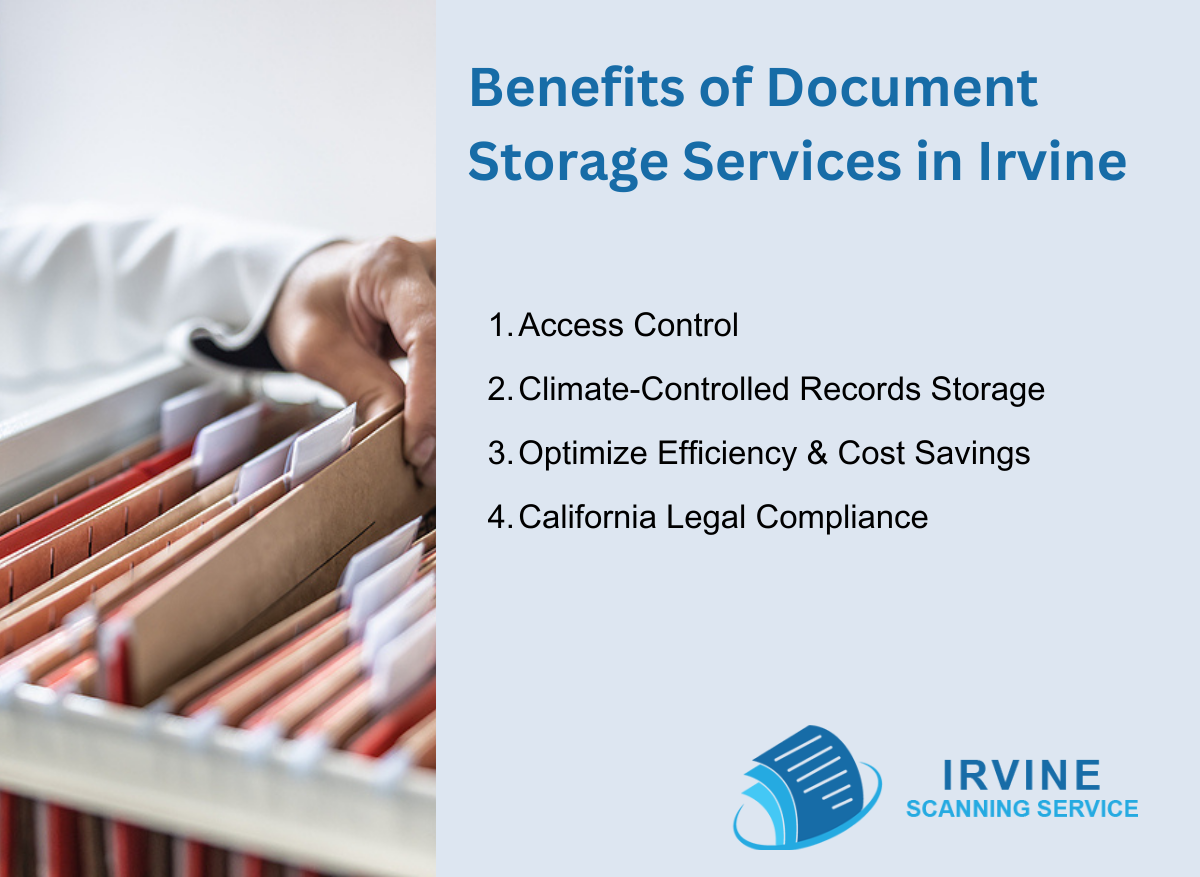 Access Control: In the realm of business, safeguarding sensitive information is paramount. Document storage services in Irvine provide robust access control, ensuring that only authorized individuals can retrieve confidential files. This added layer of security is particularly beneficial for safeguarding personnel records and other critical business documents.
Climate-Controlled Records Storage: The preservation of physical documents demands a carefully regulated environment. Irvine's document storage facilities offer climate-controlled storage, maintaining consistent temperature and humidity levels even in the event of a power outage. This ensures the longevity of hard-copy files, x-rays, and magnetic backup tapes.
Efficiency and Cost Savings: Offsite document storage in Irvine translates to more than just secure archiving. It liberates valuable office space, fostering an environment conducive to heightened employee productivity. The optimized use of space and enhanced workflow contribute to substantial cost savings in the long run.
California Legal Compliance: Navigating the intricate landscape of California legal compliance is simplified with structured document retention policies and storage programs. Irvine's document storage services facilitate a systematic approach to deciding which files should be retained onsite and which can be stored offsite, ensuring seamless retrieval as needed. This strategic approach prevents the inadvertent accumulation of unnecessary records and safeguards vital information from being discarded.
How Much Does Document Storage Cost in the Long Beach Area
At Long Beach Scanning Service, document storage services typically cost anywhere from 50–95 cents per box, per month. The pricing varies based on the size of your project and factors such as the type of documents, pickup and preparation work, and any additional security measures or document management solutions tailored to your business. For accurate pricing, give us a call, and we can connect you to a provider for a precise quote on your project.
Get Free Quotes on Off-Site Document Storage Services in Irvine Today
Irvine Scanning Services provides secure document storage and document retrieval services for businesses anywhere in the state.
To get free, no-obligation quotes on long-term document storage, give us a call at (949) 407-8598 or fill out the form.
Frequently Asked Questions
What is document storage, and why do I need it?
Document storage involves securely storing physical or digital documents in a dedicated facility to free up office space, enhance organization, and ensure document security. It's beneficial for businesses that deal with a large volume of paperwork and seek an efficient way to manage and access their documents.
Is document storage cost-effective?
Yes, document storage is often more cost-effective than maintaining in-house storage solutions. It allows businesses to allocate office space more efficiently and reduces the administrative burden associated with managing large volumes of documents. Additionally, the scalability of services means you only pay for the storage you need.
Can I store confidential or sensitive information?
Absolutely. Document storage providers are equipped to handle confidential and sensitive information. They implement strict security measures to ensure the privacy and integrity of your documents.
How do I access my stored documents in Long Beach?
Accessing your stored documents is usually straightforward. Physical documents can be retrieved through a request process, and many services offer scan-on-demand options. Digital documents are often accessible through secure online platforms with user-specific login credentials.
What types of documents can be stored?
Document storage services accommodate a wide range of documents, including legal papers, financial records, employee files, medical records, and more. Both physical and digital formats can be stored, offering flexibility based on your business needs.